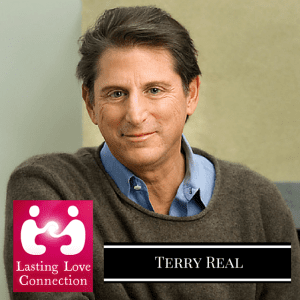 In this week's episode, we look at how to help women have a strong loving voice and men open their hearts.
Terry Real offers many amazing insights including:
-There is nothing harshness does that loving firmness can't do better.
-The first thing we need to do is remember love.
-Look for what you can do to help your partner give you what you're asking for.
-Make requests, not complaints.
-Focus on appreciation.
Click to Tweet – Terry Real – Breaking out of Complaints and into Compassion  
Big Take Away – There is no redeeming value in harshness 
More about Terry Real
Want to start your own Podcast? Want to meet your heroes? Click Here For Your Free Training: Podcaster's Secret Weapon
Suggested Reading
I Don't Want to Talk About It: Overcoming the Secret Legacy of Male Depression A revolutionary and hopeful look at depression as a silent epidemic in men that manifests as workaholism, alcoholism, rage, difficulty with intimacy, and abusive behavior.
How Can I Get Through to You? Closing the Intimacy Gap Between Men and Women PROBLEM: If you are a woman who is unfulfilled in your marriage…if you feel unheard or overburdened…if you quietly live in a state of slow-burn resentment… PROBLEM: If you are a man unhappy that your partner seems so unhappy with you…if you feel bewildered, unappreciated, or betrayed… This book offers a solution
The New Rules of Marriage: What You Need to Know to Make Love Work The New Rules of Marriage will introduce you to a radically new kind of relationship, one based on the idea that every woman has the power to transform her marriage, while men, given the right support, have it in them to rise to the occasion.
If you enjoyed today's episode, leave us a review in iTunes and Stitcher
Related Video: It's Not About the Nail