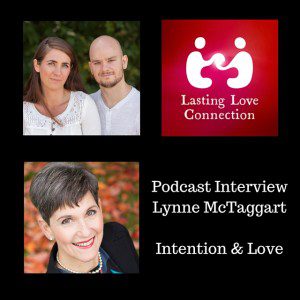 In the book 'The Field', Lynne McTaggart showed us how clear the connection between intention and outcomes are.
Very much like Dr. Wayne Dyer, Lynne helps us navigate spirituality in a way that is simple and easy to understand. Using science, research and her journalism background, Lynne is able to inspire us to use our thoughts, our hearts and our minds towards outcomes we want.
Lynne's book, The Field, is a fantastic read and it shows such astounding proof that our thoughts do impact our physical world and that of the world of those we love.
In this rare interview, Lynne shares with us insights from her research, ways we can become more grounded in intention, and how we can create more positive relationships as a result.
If you enjoy the work of Don Miguel Ruiz, Drs. John and Julie Gottman, Drs. Gay & Kathlyn Hendricks, Marianne Williamson, or any of our other guests then you'll surely love this interview with Lynne.
Click to Tweet – We Can Impact Our Partner's Health With Our Thoughts
Books by Lynne McTaggart: